---
It is with great honor to announce Throne of Helios receives the Travelers' Choice Award from Tripadvisor during the 18th Travelers' Choice Awards. Our rejoicing is even more significant, considering that out of the 8.7 million businesses on Tripadvisor, only 4,817 were awarded and we are among them this year. Nonetheless, that would not be feasible without your constant trust and support, which for many years has allowed us to be on your top preferences!
Throne of Helios was created as a result of our immense love for the history of Rhodes, which in combined with our effort to provide unique services, has resulted in the best possible 9D experience on this island of the Knights. Thanks to your 883 ratings, Throne of Helios continues to score 4.5 on Tripadvisor and stands out as one of the most popular entertainment options for the whole family in all of Rhodes.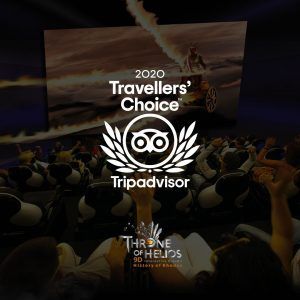 Your pertinent and honest reviews are the ones that help us constantly improve the quality of our services and that lead us to success! Thank you very much for the support and love you have shown to Throne of Helios, as these are the driving force for us to continue to grow.