---
Ancient Greeks during the 5th century BC, managed to perfect the ultimate oar-powered warship. That ship would make whoever owned it, victorious against his enemies.The Trireme was made with lightwoods. That created a light in weight, maneuverable and fast ship that conquered the seas. From 480 BC to 404 in both historical wars (from the Battle of Salamis up until the Peloponnesian War). Its name is derived from the three rows of oars on each side. It was occupied by 170 free men that were paid to row. Their skill to row had to be practiced effectively. Because of that in battles, the ship could stop and start moving again in the blink of an eye.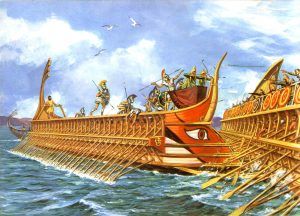 Besides the rowing men, there were 30 other people on the ship. These would be sailors, responsible for the sail, soldiers, who shot arrows at enemy ships and of course the "kivernitis" (translates in governor), who would steer the trireme. Its frame was long and slender. On the bow, there was a battering ram, a siege engine made of bronze, that would easily break destroy any wooden ship. The rams were, sometimes, decorated with names, figures, eyes and many other ornaments. Also, due to trireme's style and construction, it had to be moved to land every evening, or else it would sink.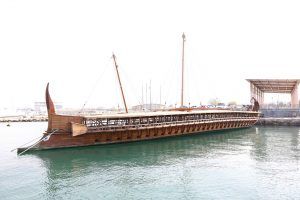 Today, this lovely ship, has been reconstructed. Based on the earlier reports about its look and size and people can, even, choose to set sail in the Saronic Gulf! Its name is "Olympias" and is currently accepting visitors from all over the world to arrive and admire its glory!